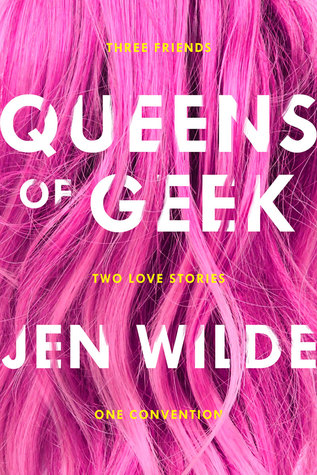 OMG. This was such an AWESOME book! I loved every second of it. I borrowed it from the library and enjoyed it SO much I'm pretty sure I'll eventually buy my own copy.
Charlie, Taylor and Jamie are best friends from Melbourne, and they're in the U.S. to attend their first ever SupaCon. Charlie is there to promo her YouTube channel and the indy movie she was in. Taylor is excited about the possibility of meeting her favourite author. Jamie is there to geek out and have a blast with his friends.
All three might have their own reasons for wanting to be at SupaCon, but their friendship comes first. And although they were counting on a good time, each one gets to experience so much more than they expected...
Like I said above, this book was a blast. It's told in the POV of Charlie and Taylor, two very different girls with their own hopes and dreams. I adored both of their voices and just wanted to hug them because they're so adorkable!
Seriously, this book is a total geek-out and I got a huge kick out of all the very familiar pop culture references. Oh, and the diversity is absolutely excellent! All representation was so smooth, just there. Which is how it should be because real life is like that, right?
I also liked the two romances. They're both sweet, full of confusion, a few misunderstandings, and a whole bunch of cuteness. I loved all the characters. Um, no, that's not true. I didn't like Reese one little bit. He was such an annoying pesky fly. Ugh. He sucked!
Anyway, I think this book is fantastic and I'm really glad I got the chance to experience it. Because it seriously is quite the experience. I thought the author did a great job at putting the reader in the heart of the convention. The sense of atmosphere was vivid.
This book is cute, fun and full of dorky goodness.