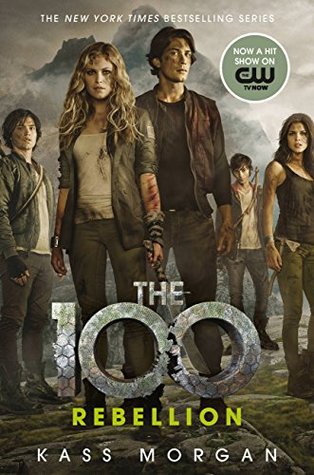 After really enjoying The 100 trilogy, I got stuck into the TV show and fell in love with it as well. I love both of them. The books sucked me into this world and the awesome cast of characters. The TV show got me in so deep I'm hooked!
So when I found out there was another book... of course I was looking forward to it.
The Colonists and Earthborns are living peacefully in a village they're shaping with their own hands and customs. But when an unexpected threat attacks, their village is near ruined and some of their own are taken by a fanatical cult. The Protectors outwardly seem to worship the Earth, but the truth is so much darker and dangerous. Because this cult not only kidnaps 'recruits', but they murder and pillage, and have some really screwed up ideas...
I LOVED this book. So much that I read it in a day. I just didn't want to put it down. The action is so vivid. There's so much heart. Plus the tension and suspense had me on the edge of my seat all the way through.
The story is told in four POVs. Always the diplomat, Clarke wants to rescue her people using brain over brawn. Always determined to push through no matter what, Bellamy knows only brawn will save his friends. Glass loves Luke and has been to hell and back to be with him, but when the leader of the Protectors starts to make sense, she starts to wonder about her place in this new world. Wells is still in mourning, but if he's going to save himself and the people he cares about, he's going to have to reconnect with his dormant leadership qualities. And Octavia never fails to impress.
These characters are pushed to their limits, and the story moves quickly. There's hardly any time for a breather as they all fight for their right to live in a planet full of new dangers. And all of these qualities make one awesome, well-written novel I enjoyed heaps.
Yep. This was another winner. And it came at the perfect time. There's nothing like a great book sucking you in after several reading fails.
I wonder... is this the last book?