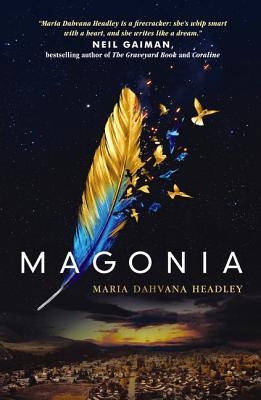 I'd been hearing a lot of good things about this book when I found out the local library had a copy. So I borrowed it, and my daughter read it first. Well, she actually called it a DNF. She just couldn't get into it.
Yet, I was hooked as soon as I started reading.
Aza's voice sucked me in. Aza's struggle kept me turning the page. Jason gave me hope when Aza's body was falling apart. And the wondrous story made me fall in love with everything about Magonia.
Aza is a girl who is days away from her sixteenth birthday. She's always been sick because there's something wrong with her lungs. And doctors can't do anything to cure her. They just keep her inevitable death at bay for a little longer.
The day they discover a feather in her lungs, everything human slips away from Aza. She's spirited away to a mysterious world in the sky where ships sail through the clouds and whales make storms. A place where birds aren't just birds and sharks are as much a danger as pirates.
For the first time in her life she can breathe. Aza has finally found her place in the world, but trusting her obsessive real mother is a lot more dangerous than she could have ever imagined. And she's haunted by the memory of Jason...
OMG. This book. It's amazing. So unique and unusual, but magical and beautiful. Aza's story is a sad one, but underlined with happiness. It's odd and written in an almost alien way, but it's wonderful.
I've heard comparisons to The Fault in Our Stars and Stardust, but like Jason, I'll throw in Peter Pan and ET. Plus, Treasure Planet and a few Doctor Who eps with the tenth Doctor! But overall, there's no other story quite like this one. :)
I loved this book, and will never look at a stormy sky quite the same way.