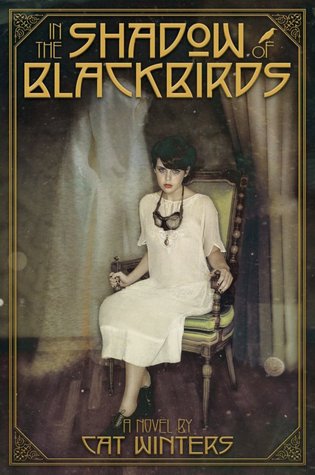 I finished reading this book this afternoon and absolutely loved it!
Mary Shelley Black (love that name!) lives in America during 1918. She's originally from Portland but moves to San Diego to stay with her aunt because her father's been arrested.
1918 is a terrifying time to be alive. WWI is killing the boys and men. Women are working hard back home, but still not taken seriously. And the Spanish influenza is killing the population. Between the war and the flu, everyone is living in constant fear of dying. They wear gauze masks everywhere and try just about any home remedy they can think of--mostly involving onions.
Mary Shelley is an intelligent, strong, stubborn, and amazing sixteen year old who tinkers with contraptions and loves a boy called Stephen. She also doesn't believe in ghosts and hates how desperate mourners are obsessed with séances and spirit photographers. But when a death affects her profoundly and she actually connects with the spirit, she sets out on a mission to help this spirit move on.
Wow. I loved this book!
It's a brilliant story, which is also very bleak and sad, but so intriguing that it hooked me instantly. The revelation was devastating. Everything Mary Shelley goes through is astounding. Stephen was a tormented sweetheart. The setting is super scary--and creepy--because death surrounds everything. I loved how the author was able to make every detail so vivid that it really did feel like the end of the world.
I also liked the actual photography, and even the Author's Note was interesting.
Yep, loved it.