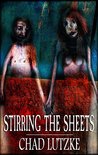 While sorting through my Paperwhite the other night, I stumbled upon this novella and decided to check it out. I mean, it sounded interesting, the cover is super creepy, and I've heard great things about this author.
Emmett works in a funeral home, so he's no stranger to death. However, when he loses his wife of almost 50 years, he finds himself drowning in grief, loneliness and an endless reel of memories.
The day the body of a random woman that reminds him of a younger version of his dead wife crosses his path, he does the unthinkable...
I wasn't sure what to expect from this novella. I thought it might turn out to be a twisted, bloody mess. Or turn into some sort of necro-loving nightmare. Instead, it was a melancholy story about a man who has helped others move on after death, trying to come to terms with his own loss. And failing at every step.
It's about how the human mind and spirit betrays him when he's trying to find his way out of the dark. And how the combination of doing something totally insane--and let's be honest, immoral--and finally opening up to the real show of friendship being offered to him, might be the perfect formula to, maybe not cure him, but lead him in the right direction towards living again.
This is such a well-written story that dragged me in deep, until I felt every single emotion Emmett did. His pain bounces off the pages, and his daily routine of nothingness only adds to the sombre experience. Yet, this wasn't a depressing or bleak read, it was cathartic.
It was also a quiet horror tale that I'm glad I finally read. Oh, and I will definitely have to read more of Lutzke's books.