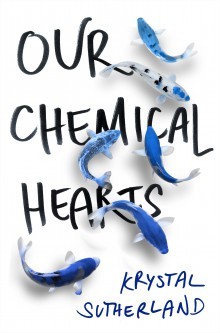 My daughter borrowed this from the library, so when she finished with it I decided to read it too. And I'm so glad I did!
Henry is a senior who's got two best friends, devotes most of his time to doing schoolwork so he can get into a decent college, and desperately wants to be the editor for the school newspaper. He's never been romantically interested in anyone because no one has captivated him enough.
That all changes when Grace walks into his classroom. She's got a cane, dodgy hair and dresses in oversized boy's clothes. She's also going to be an editor for the paper too. This obviously means he can spend more time with her.
Before he realises it, Henry is totally falling for her but Grace is secretive and damaged. She's hot and cold, fun and depressing. But one thing is for sure, he's addicted to her and most addictions don't end well...
Wow. This book is HEAVY.
It's also super awesome. And so addictive I read it in less than 24hrs. It's also very well written.
Henry's voice shines and he's such a funny and nice kid that I really wanted things to work out for him. Even when I could tell they wouldn't because he wasn't seeing clearly and was falling way to deep too soon.
He's a romantic at heart, but still manages to sometimes be a bit too pushy when it's clear that Grace is not in a good place.
And Grace. OMG. This poor damaged girl has suffered such a traumatic accident with devastating results. She's sad, grieving and all while trying to find a new path in life. A path she's clearly not ready for. As selfish as she seems to come across sometimes, when everything is revealed, you can't help but feel sorry for her.
I also really liked Lola, she was feisty and such a good friend she wasn't afraid to call Henry out on his bullshit. Murray was more of a pain than anything else. His constant Aussie slang was usually out of place and just too much, but I totally got what the author was doing. Plus, he was a bit stalkerish, which is always ew.
Another thing this book did right was the adults. They were actual people with their own set of problems. None of them are perfect, but I got a kick out of his parents and sister because they made me laugh.
And that's another thing. For a book that's so sad and full of complicated love because of each character's life experience, it was so funny!
Yeah, this is an awesome book.