It's been a while since I read the first volume, but it didn't take long to get back into the swing of things.
Marko and Alana have gone against some creepy monsters, and now that they're three things are actually worse. Add some very strange grandparents to the mix, the search for a ghostly babysitter, the introduction of a pissed-off ex, the return of The Will, and the birth of... well, you'll have to see that for yourself.
Boy, this is one weird and wonderful story.
It's really hard to describe this story because it's INSANE. A highly imaginative blend of fantasy, sci-fi and horror. You'll never read anything as crazy as this. And because of
that
you can't help but love it!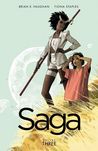 Whoa. This volume was amazing! The story is really moving along now.
I loved Alana and Marko's stay in the cosmic lighthouse on the planet Quietus, while visiting their hero. It's so cool how they bonded over a book written by D. Oswald Heist in the first place. I just wish prince-douche hadn't ruined everything. And OMG. The Will! What's gonna happen there?!
BTW, I really like Lying Cat. And that the story is being narrated by Hazel. Not to mention how beautiful the art is. The colours are amazing and bright. There's just SO much to love about Saga.
I'm really enjoying this series! It's just so freaky and odd and totally different.
OMG. This just gets better and better.
A LOT of very cool stuff happens in this volume. Alana gets an entertainment job that leads to no-good. Marko becomes a bored full-time father who starts to stray. And in the meantime there's a crazy robot--yes, even crazier than Prince Robot IV!--leaving a trail of chaos behind him. It's brutal.
Love this!!
Another action-packed volume full of adventure, unlikely companions, bad decisions, double crossing, sex and death.
Yikes. This series is a roller-coaster of emotion and bad stuff. Just when you think things can't get worse, they do. Just when you think things can't get stranger or grosser, they most certainly do.
I hated that Marko was separated from his family, but it didn't stop me from enjoying this very awesome story. And the artwork is brilliant, btw.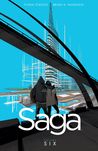 Wow. Yep. So much happened in this volume! Yikes.




Marko & Alana might have found their way back to each other, but now they're searching for their daughter. And Hazel is pretty much a prisoner, though she does attend school. I'm still really enjoying her narration, and the many colourful familiar characters. As well as the new ones.




The shit's getting real serious now, since I have only one more volume to read before finishing this arc. O.o

BTW, that ending... wasn't

expecting

that.

READ ON 27 MARCH

:
Just for the record, I read the individual issues 37-42, but thought it might be best to review them under the last volume.
Once again, the artwork is gorgeous. The colours are bright. And the story...
OMG. I'm in shock.
That ending was brutal. I read it several times because, Nooooooo!
The family is back together and on a comet to re-fuel. But of course, things don't go according to plan and a new threat appears, we meet a new set of cute characters to fall in love with, Hazel is growing up fast, and they'll be on their way soon. Except, when they don't because everything goes to hell.
I seriously refuse to accept this is really The End. :,(