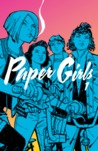 Paper Girls, Vol. 1 by Brian K. Vaughan

My rating: 4 of 5 stars


After loving the hell out of the Saga comic book series, I decided it would be great to check this out.
I mean, it's set in the 1980s, features some cool references and is about four very different, but cool, paper delivery girls: Erin, Mac, Tiff & KJ.
It's Halloween and Erin stumbles on the other three girls and decides to join them on their paper run. But when some weirdos appear out of nowhere and steal one of their walkie-talkies, the girls stumble on a weird ship and end up in some nightmarish demon infested place...
Okay. Just for the record at the moment I have no fucking idea what's happening. But I like the setting and the girls. The ending intrigued me. Plus the artwork and colours are lovely. And the story is creepy as hell. What's with the apple symbol, huh? And why's gramps got a problem with teenagers? O.o
Guess I'll have to keep reading to find out.