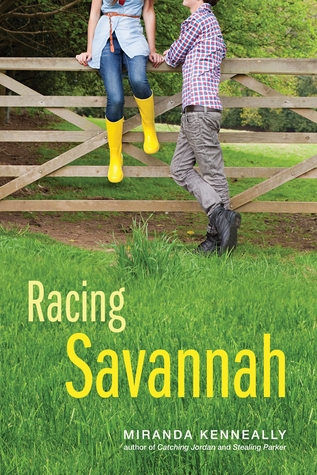 This might be the fourth book in the Hundred Oaks series but, because I've been reading them out of sequence, it's my sixth. And man, it was fantastic! :)
Savannah's father has just gotten a new job working at Cedar Hill Farms as the new head groom. This farm trains horses and is owned by the very rich Goodwin family. She lives in the shared staff accommodations with her father and his pregnant girlfriend. Her room might be tiny, but Savannah knows what it's like to be poor.
Her father has only given her one rule: stay away from the Goodwin family because they like their privacy. But as soon as she's settled, she crosses paths with the very alluring Jack Goodwin and can't seem to stay away from him. He's suddenly everywhere, and even helps her secure her dream job of becoming a jockey because she's the only one the most difficult horse likes to be around.
But Jack's got a lot to prove to his father, and his father is trying to secure an important business deal, and Savannah finds herself getting entangled in the middle of everything...
I loved this book! It's another winner. And the main reason for that is Savannah. She had an amazing and honest voice that hooked me into her story. She's strong and although she might get swept up in things sometimes, she stays true to herself. She also loves her family and is willing to do whatever it takes to help them. Not to mention that her love of horses is a quality that I really enjoyed reading about because I love horses.
With a main character this awesome and a love story that goes through many ups and downs, as well as focusing on some pretty cool friendships, of course I was going to love it!
Also got a kick out of catching up with some of the characters in previous books, and their siblings. It was super cool to see one couple actually get married in this book!
BTW, you know a book is awesome when I totally got caught up in the excitement of horse racing... and I don't even like horse racing! LOL.