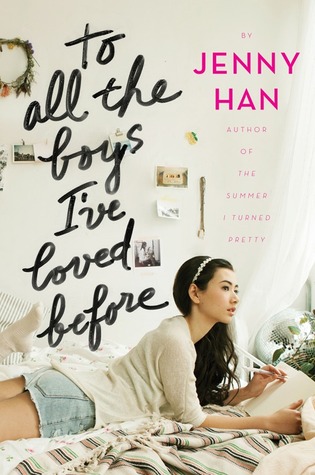 My daughter borrowed this book from the library last week. Since she liked it and I'd heard some good things about it, I decided to read it too.
Lara Jean is the middle child. She has two sisters, one older and one younger. Her older sister Margot is going to study overseas, so she's got some big shoes to fill. Her younger sister Kitty is a total smartass. Their mother passed away when they were quite young, so the Song girls know how to take care of themselves.
What Lara Jean doesn't do well is make friends, or know how to deal with boys. That's why she writes love letters to the five boys she's loved. It's her way of closing that chapter and moving on. She keeps them hidden inside a hatbox her mother gave her, and no one knows about them.
Well, until the day they all get sent out and suddenly her life is turned upside down...
I won't say anything else about the plot because finding out how it unfolds was truly a wonderful reading experience. I loved how unpredictable and totally captivating this book turned out to be.
Lara Jean is charming and innocent. She's even silly sometimes, and totally neurotic. I loved how she was clueless about boys and gets into some situations that made me LOL. But most of all, I enjoyed her voice. It felt like a genuine teenage narrator telling this cute and sweet story.
Loved this book! Can't wait to find out what other trouble Lara Jean gets herself into next.