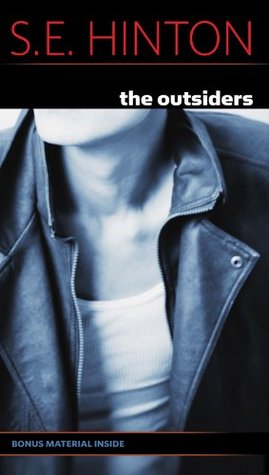 Well, I decided to start my 2016 Reading Challenge with a classic. This is a book that I read back in the late 1980s, while in high school. I enjoyed it so much that I talked my English teacher into lending me all the other S.E Hinton books the English department had available. :)
Anyway, reading this book almost 30 years later was still a great experience. I was hooked instantly and read the whole book in one day (well, finished it just after midnight) because I just couldn't stop.
Ponyboy is a teenager. His parents died so he lives with his older brothers Darry and Sodapop. Darry works hard to keep the brothers together, while Sodapop dropped out of school and got a job to help keep Ponyboy in school because this kid's smart. He loves to read and is an advanced student. His brothers know that he might be able to make something of himself. If he can stay out of gang trouble.
Along with their friends Johnny, Two-Bit, Steve and Dally these guys are known as Greasers--poor kids from shitty homes but cool hair. And the Socs--rich kids with fancy cars who go around bashing Greasers. The night a bunch of drunk Socs go too far, Ponyboy and Johnny retaliate and are forced to go on the run...
Wow. Still amazing.
This story might have been set in the 1960s, but some things never change. S.E Hinton is right, the group names might change but some kids will always feel like they're lumped into one group or another and have to fight to stay alive.
This is a timeless book that packed the same emotional punch for me now as it did when I first read it (at the same age as Ponyboy). The writing style sucked me in quickly and deeply. I once again got lost in the violent world of the Greasers and felt sorry for their hardships but celebrated their generosity towards each other. Basically, I once again fell in love with the characters.
Ponyboy's voice is honest and raw. Johnny's story still tore my heart out. And the moral is still the same.
I LOVE this book SO MUCH.
Now I want to watch the movie! :)
ORIGINAL REVIEW: I read this book in high school and LOVED it!