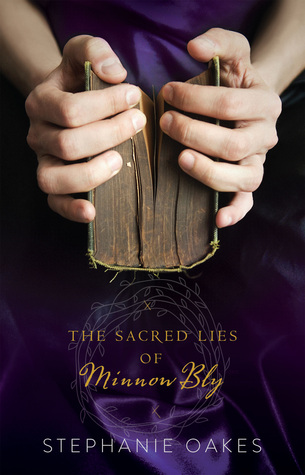 My daughter borrowed this book from the library and read it very quickly. She also said it was great, so I decided to read it too.
Minnow has spent most of her young life in the wilderness, living away from society in the Kevinian cult. The Prophet tells them what to do, how to think, and manipulates everything by using the name of God. But Minnow has lots of questions, and the Prophet doesn't have answers.
Luckily, she finds other sorts of answers in the woods where she meets Jude. A boy her age living in his own version of the wilderness. Together they form a bond, a strong friendship that blossoms into more when they get older.
But the cult has other plans for her. Plans that include marriage and stealing something no one has a right to take--her hands. What follows is a nightmarish night that ends up with Minnow committing a horrible act of violence that sends her into juvenile detention.
She goes from one prison to another, but this new one might be just what she needs. With the help of a friend and a doctor who wants to help, she might end up discovering her own meanings about life and the world she lives in.
OMG. Wow.
This book is powerful. Seriously. It's so well written, and Minnow's tale is so captivating, that I was hooked from the very beginning. It was so sad to watch this poor girl relive the awful things she was forced to live with because of her parents' blind faith. And then have to suffer the consequences because the trauma pushes her over the edge. Still, her development is amazing. I loved how she goes from a scared, mixed up girl to someone who can face the past and accept the future. Even if it means giving up what she thought she wanted.
I really enjoyed this book. It was SO freaking good!
The only frustrating bits were the ones that dealt with the Prophet because this might be fiction, but assholes like that really exist in this world. It's awful how these cults preaching the word of God always have two things in common: oppressing women and using religion as an excuse to abuse young girls. It's despicable and makes me sick!
And that's another reason why this book is so amazing. It captured everything so vividly, and honestly. I also liked how the girls in juvie were portrayed.
Yep. Such a powerful story!