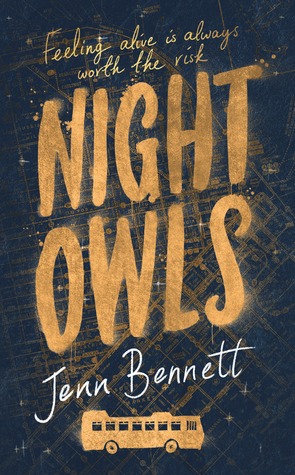 I just knew I would love this book! Why? Well, because the blurb sounded intriguing. And because I loved the Arcadia Bell series. :)
Jenn writes awesome books. Her heroines are smart and strong. Her heroes are totally swoon-worthy. And she knows how to weave a story, that's for sure.
Anyway. I wasn't feeling well yesterday and spent most of the day reading this cool book.
Beatrix--Bex--is an artist. Her fascination with anatomy means she loves to draw the inner-workings of the body. Her art is dark, and some might say gory. Jackson--Jack--is a street artist. His art is bold, gold words spray-painted all over San Francisco. Which some might call illegal.
When these two meet on the night bus, the mutual attraction is instant. But she has a feeling he's nothing but trouble. Problem is, he might be the kind of trouble she needs.
The more they get to know each other, the deeper their bond becomes. As their separate family troubles and secrets are slowly revealed, will their need to be together overcome the hardships?
OMG. This book was SO awesome. Just like I knew it would be! I loved Bex. She was a loner with so much depth. Jack is also a loner in his own way. Their art keeps them apart from others because both are so different. But it was so cool how they respect each other's art choices, and it kinda brings them together. They're an awesome couple, and their journey is interesting and heartfelt.
I absolutely adored this book!
Also, the cover is gorgeous. I've got the UK cover. The US cover--which has a different title--is also cool.