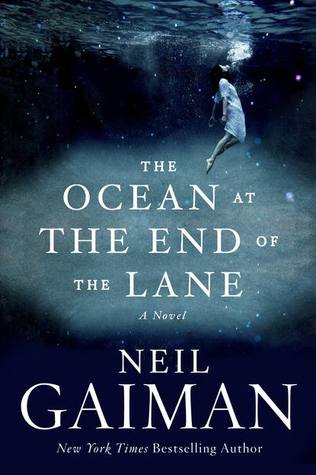 There's a reason why I love reading Neil Gaiman books, and this book strengthens how much I love his stories. He's such an amazing storyteller. I was instantly swept off my reading feet and transported into this amazing tale.
When a man returns home to attend a funeral, he ends up visiting the place he grew up. But ends up at the end of the lane. Where a lake sits. A pond that the property owners insist is actually an ocean.
While at the farmhouse memories swamp him, taking him back to the incredible events that happened when he was seven. When he met an older girl called Lettie Hempstock and her kind family. During a time when he got caught up in a magical yet super spooky situation.
He visits a strange land, gets a new and very mean nanny who starts changing his family's dynamic. Only the Hempstocks can help him get out of this, but maybe even they're not enough...
This book is moving, beautiful and filled with wonder. I felt so bad for the narrator--we never find out his name--who was so very lonely, and misunderstood. He suffered through so many sad events. :( I also loved how he was a big reader and found comfort in all kinds of books.
The Hempstocks are such an amazing family. I loved them! Reminded me of certain females of myth that I won't mention so I don't ruin anything. :)
Neil Gaiman sure writes incredible stories. He also writes incredible, strong women. And memorable characters.
*happy sigh*