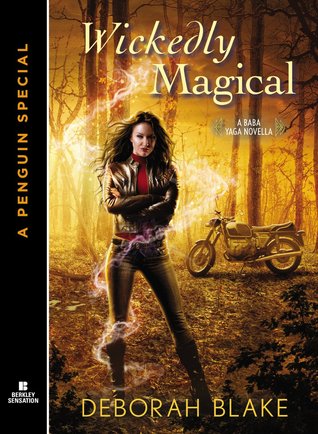 I started this prequel novella yesterday and finished it this morning. It was so much fun!
Barbara Yager is one of three Baba Yaga witches living in the United States. She lives in her enchanted Airstream with her pit bull, Chudo-Yudo--who is actually a dragon in disguise. She's a travelling botanist and college professor in the human world. She also helps keep the balance of nature, guards the borders between the human world and the Otherworld, while helping those worthy enough to seek her out.
When Ivan Dmetriev, a distraught father, approaches her with the token that signals a family debt of honor, Barbara has no choice but to help him. This poor man has recently lost his family to another man, and the reason seems to be of a supernatural nature. Jonathan Bellingwood isn't compelling people with his charm, he's in possession of something that cancels out free will. To stop him, Barbara needs the help of her witch sisters...
I loved this story so much that I can't wait to read the first book in the series! Which I already have on pre-order, btw. :)
The use of Russian myth is intriguing, and I like how it's weaved into a contemporary setting. The three Baba Yaga witches and their dragon companions are interesting. I'm looking forward to finding out more about them.