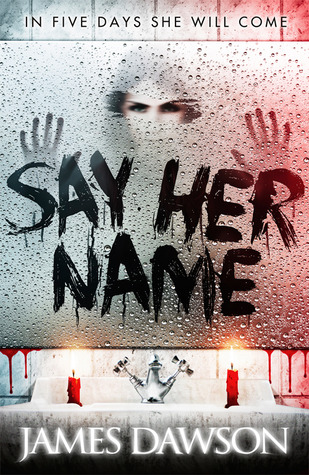 This is a book I've had on my Kindle for several months and couldn't wait to get stuck into. I find the Bloody Mary urban legend fascinating, so I was looking forward to reading another spin on it. Not to mention that the cover is all kinds of awesome. :)
As soon as I started, I was hooked. The first chapter in this book is set in the past and is amazing. It's spooky and the suspense is so thick that when it ends, it leaves you breathless.

After that, we're taken to present day, to Piper's Hall School for Young Ladies. A boarding school situated on top of a cliff-face. Yeah, the perfect setting for this story. Here we meet a bunch of girls from the school who have snuck out and are hanging around some local boys. Since it's Halloween, one of them tells them the story of Bloody Mary and because they're kids, three of them actually stand in front of a mirror and say her name five times.
The next day, Bobbie finds a message on the mirror. It says: FIVE DAYS. Now Bobbie, Naya (her bestie), and Caine (the hottie she has her eye on) start seeing Mary in the mirror. They're also having strange dreams about her, and the three know that as soon as the five days are up, Mary's coming for them.
OMG. This was SO darn good. I love a good horror story, and this one definitely delivered. It's set in the perfect location and is a creepy, spooky, chilling, intriguing mystery with a twist ending. The characters were interesting too. I really liked Bobbie and Caine's detective work. Also enjoyed that they found each other during such hard times.
And Mary, yikes. Her story was excellent. I loved how everything was slowly uncovered and how even when her story seemed to be told, it was far from over.
I only had one pet peeve, and that was the overuse of exclamation points. I know it was mostly the teenagers using them because they're either always excited, or distraught, or both... but it still kinda pulled me out of the story. But definitely not enough to lose me.
I loved this book. What a fantastic ending!